Post by shteven on May 18, 2009 18:51:10 GMT -5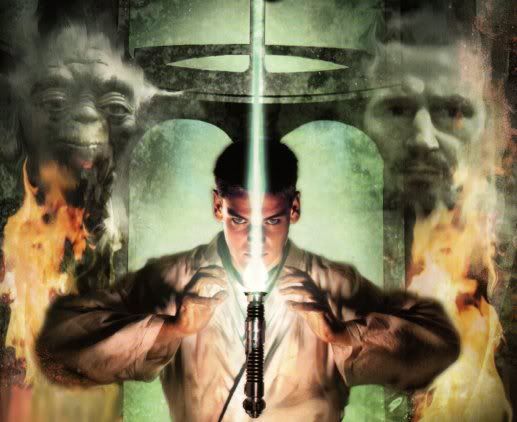 Full Name: Carth Vinlan
Race: Human
Age: 19
Gender: Male
Height: 5'11
Weight: 164
Bithplace: Corellia
Rank: Jedi Padawan
Lightsaber: Single-blade
Color: Green
Lightsaber Skills and Forms:
Shii-Cho: 4
Makashi: 1
Soresu: 2
Ataru: 1
Shien / Djem So:
Niman: 0
Jar'Kai:0
Double-bladed Lightsaber Combat: 0
Mounted Lightsaber Combat: 0
Force Sensitive Abilities and Practices:
Force Manipulation: 3
Force Senses: 5
Protection: 3
Healing: 5
Force Powers - Destruction: 2
Attributes:
Physical Strength: 5
Intelligence: 6
Speed: 5
Leadership: 5
Unarmed Combat: 2
Force Attunement: +2
Appearance:
Personality: During his years spent on Corellia before he was identified, Carth was instilled with a sense of family. Always protect those you care about, his older brother would say. At least, that's what he remembers from his early life. Life in the temple made him grow with that thought, making him someone willing to help at any given notice. He would care for his fellow younglings as a child and as a padawan , it only made him stick to that. He's a well-mannered young man, but often looks to the future more than the present. He is starting to acquire patience as he grows as a person and as a Jedi.
Carth would always find solace in nature, and history. If he isn't in the archives, he is in the Room of A Thousand Fountains, looking at the flora and the fountain itself. Apart from this, he is starting to better his flying skills, thinking that he might as well get better at this now rather than later. This stems from the fact that he doesn't feel comfortable in ships.
History:
Carth was born in the year 3,715 BBY on a rural community in Corellia. His mother died because of a spore that made her sick, and she had died while the medical droids managed to retrieve Carth. He was named after famous Telosian Carth Onasi. He was the youngest in his family, who herded Banthas for their blue milk. Unfortunately, one of their Bantha mauled their father, killing him. This left only Carth, and his older brother, Karo. Karo raied his younger brother, only 4 years old at the time it happened.
One day, while Karo took his brother to get food on a nearby market district, there was a Jedi acquisition group there. The group immediately spotted Carth among the crowd and one of the knights there Identified him.
Reluctantly, Karo let Carth be sent to the temple for training. One of Carth's earliest memories was that of him being taken from his brother and sent to Coruscant. He was told that he would live somewhere else from now on. Carth was sad at first that his older brother would be alone from now on, but he was assured that he would be fine.
His life at the temple wasn't exactly outstanding. He would take more time than the rest of the students in learning lightsaber forms. Often he would trip on his feet, yet this never stopped him before. Through perseverance, he finally mastered basic light saber attacks, getting him closer to being a Padawan. A few things often made him show what he was capable of: his ability to heal through the Force and his awareness. After his studies, he would head straight to the Room of a Thousand Fountains, just to look at the flora that grew there. Because of this, his fellow younglings called him "plant-boy" affectionately.
At age 12, he entered a tournament for Jedi younglings, and the winner would be assigned to a Jedi Master…However, he lost two matches in.Afterwards, he felt a connection with Jedi Master Kane Ryder, and they became Master and Apprentice. He was Master Ryder's second Padawan.
During his developing as a Padawan, Carth didn't create his own lightsaber yet, due to him being too distant in his studies and often focusing on flora and medicine, instead of focusing on lightsaber skills. His master and he headed to Ilum, as he was deemed ready to create his own due to his advancement in his training after mastering Shii-Cho, as well as a few techniques that delve into Soresu and Ataru.
Inside the cave of crystals, he received a vision of himself laying on a field of grass and once he emerged, he noticed his lightsaber completely assembled. Its blade was bright green and the hilt resembled partially his master's, but it resembled a Force pike that one would use to herd Banthas. He opened his eyes and he watched as the light saber was complete, floating in front of him. Carth held it amazed, and he felt as if the Force flowed through him more so than before. On the way to the Jedi Temple, he started to question his competence, thinking that he was lacking in a few areas. So he signed on for flying lessons.
During the next three years, he honed his abilities in Soresu, and found that it helped him greatly in his flying lessons, and is still continuing flying lessons. He felt a deep respect for his Master, and seemed like he and Master Ryder were alike.
At age 18, he once again entered a tournament for Padawans to show their development in their training. Instead of losing early on, he rose through the tournament, thanks to his Soresu training under Master Ryder. With this tournament win, his confidence in his abilities as a swordsman grew and he grew more confident he would honor the Jedi Code well as well as the Force.
Lately, Carth started to adopt his Master's point of view of the Senate. But recent events shook up his ideals. Once the Dark Jedi started to take control of the Senate, Carth watched as Master Ryder grow angry, often reminding him to calm himself. He remembered his Master leave with a Jedi strike team to assassinate the Sith Lord.
Carth was a spectator as the Jedi broke away from the Senate. Even thoguh this happened, Carth started to adopt a way of thinking: The Jedi serve the Force, and all that engulfs it. Thus, they would still be protectors of the galaxy. Sometimes, he stayed behind on a few missions that Master Ryder went without him, but on the ones he went, he saw firsthand how the extreme the Sith would go. But this still did not deter him from his way of being a Jedi. However he came across a truth: he had to be aware of things developing around him. However strange it may seemed, it looked like Master Ryder was takign the right course: They had to stop being so passive about this.